Happy Gaudete Sunday everyone!  It's What I Wore Sunday time!
I just couldn't resist.  I had to wear pink:
I love the colors in this jacket, which I found at a thrift store:
The cut is a little old lady-ish though.  Someday I'd like to have it altered to fit more like this: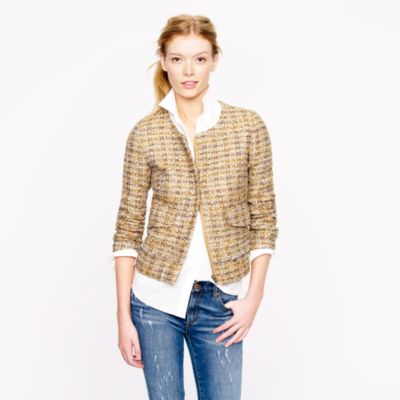 Someday maybe.  Here are my boots:
More interestingly, check out what's behind my boots: yes, our Christmas tree!  Finally!  We went and cut one down after Mass.  We haven't decorated it yet; perhaps tonight after the girls are in bed.  I brought out a box of some Christmas decorations a few days ago.  I left the girls alone with the box for about 30 seconds.  Sure enough, when I came back, Girl 1 had dumped out a box of little ornaments all over the floor (not fragile ones, fortunately), and Girl 2 was gnawing on a Christmas light bulb.  Not making that mistake again.
Here are some pics of our expedition:
Pat and I were listening to a live stream of this presentation by Dr. Timothy O'Donnell, last night (recording should be available on the website later).  He mentioned that some people try to reduce Christ's mission to a teaching one, leaving out the whole dying-for-our-sins part.  I was reminded of that during the Gospel today when John the Baptist says,
"He who has two coats, let him share with him who has none; and he who has food, let him do likewise." Tax collectors also came to be baptized, and said to him, "Teacher, what shall we do?"  And he said to them, "Collect no more than is appointed you." Soldiers also asked him, "And we, what shall we do?" And he said to them, "Rob no one by violence or by false accusation, and be content with your wages."  As the people were in expectation, and all men questioned in their hearts concerning John, whether perhaps he were the Christ, John answered them all, "I baptize you with water; but he who is mightier than I is coming, the thong of whose sandals I am not worthy to untie; he will baptize you with the Holy Spirit and with fire.  His winnowing fork is in his hand, to clear his threshing floor, and to gather the wheat into his granary, but the chaff he will burn with unquenchable fire." So, with many other exhortations, he preached good news to the people.
If all we needed was a teacher, John the Baptist would have sufficed.  But he didn't.
Okay, that's my profound theological insight for the day!  Enjoy your Sunday everyone!
For more Sunday finery, check out the link-up at Fine Linen and Purple.  Thanks as always to Kendra and Emily for hosting the fun!