Because "Christmas post-mortem" just doesn't sound right . . . .
We had a holly jolly Christmas here.  It was a white Christmas, in fact, which was pretty spiffy.
The unfortunate thing about the snow was that it made the roads too slick for my in-laws to come over to our place for Christmas Eve dinner as planned.  So Pat, the girls, and I had a quiet dinner by ourselves.  We are still digging our way out of all the chili I made.
I went to bed too late Christmas Eve.  I didn't have any presents left to wrap (miracle!).  I was just excited.  How wrong is that?? Then I got up at 6 with the baby.  Girl 1 and Pat didn't wake up until 8:30.
Once Girl 1 woke up she didn't say anything about presents!  We even got to eat a little breakfast before she noticed gifts poking out of her stocking.  Then she opened her coloring book, markers, gloves, and a book from Mumsie and Papaw (my parents).  She was happy as a clam.  We went to 10:30 mass, which was actually less crowded than it usually is on Sunday, and the girls were good!
 After mass we went to Pat's parents' house for the annual family gift-opening ritual, which was tons of fun as always.  As I expected, the Melissa and Doug dolls I got for Girl 1 were as chopped liver to her.
What she did like was The Slutty Fairy ("TSF") from Grams: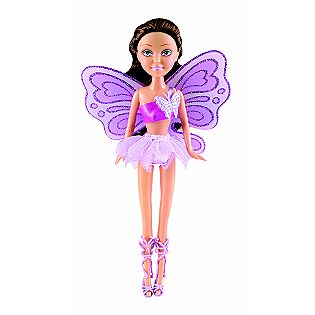 She came complete with matching fairy wings and skirt for Girl 1, which is what Grams bought it for.  Grams intended TSF to go directly to the trash can, but it was too late.  Love at first sight.  After opening TSF, Girl 1 couldn't wait to leave, get home, and get changed.  She just couldn't figure out why she didn't get a bra top to go with the skirt and wings.
So here is what Girl 1 wore for the latter part of Christmas:
We went home for Girl 2's nap and then back to Pat's parents' for a delicious dinner prepared by Pat's mom with no help from me.  (Thank you Mom!  I promise to make that Apple Betty soon.  🙂 My brother John joined us that afternoon and is staying with us through tonight.  It's been great hanging out with him.  Some friends of ours and their two little kids joined us for Christmas dinner, too, which was also fun.  (And double thanks to my MIL for hosting not only us but my brother and our friends, too!)
My thoughts on my gift-giving attempts this year:
I love the idea of buying handmade items instead of mass-produced-in-China crap.  There's always a tension, though, between buying something that's cool and handcrafted and original vs. buying exactly what you know someone wants.
Fortunately, what I got my mom was both handcrafted and original and (I'm pretty sure), exactly what she wanted (but didn't know she wanted until she got it):
For everyone else I ordered gifts off Amazon or someplace similar.  I did no shopping in stores, other than a little bit at Walmart, where I go to grocery shop anyway.  I did not miss the crowds at the mall.
 I'd like to spend a little bit more time at our parish craft fair next year, but I'm not going to sweat it.  A gift someone doesn't like or use is just junk, whether it's handcrafted or made in China.
When I order from Amazon, I try to click through from my friend Liz's blog, or a similar site, so that at least she or another small business person or work-at-home mom gets a percentage.
I'm nixing the Melissa & Doug princess castle as a 4th birthday gift for Girl 1.  I'l save it for when she's older  She obviously isn't into that kind of make-believe play yet.  She did like The Slutty Fairy doll, the Fancy Nancy doll Uncle John got her, and especially (of course!) the baby doll Uncle John got for Girl 2.  So maybe I'll get her something along that line.
And since of course you all were wondering (and so I can at least pretend to belong on Grace's link-up), here is what I wore to Christmas mass:
So the photo is blurry and Pat has evil eyes in it and all anyone really wants to see are the kids but . . . dang, my hair looked good!  Velcro rollers.  Who knew?
And here is a pic with better focus but in which my hair does not look quite as good nor my cheekbones as prominent:
The necklace is from Chewbeads, and I was really excited to get it from Pat on Christmas morning.  The necklace is sturdy and chewable so you can wear it even with a grabby baby.  It clashed horribly with my belt and actually it look like grey fake rocks, but it's just nice to be able to wear a necklace again.  Also, they really do feel good to chew on.  I tried.
The girls wore the same dresses Pat put them in for a trial run back in early November.
Aaaaand that's about all folks.  Enjoy your Christmas season!