It's time for a new mom bag.  My current one was a little worn when I bought it second-hand two years ago, and it's positively sad now.
I've been saving my pennies.  I want to buy something nice.  Something a cow gave up a whole lotta skin for.  I've waited and waited for this day to arrive.  Yet now that I'm ready, I don't know what to get.  I don't need a diaper bag right now.  But I need something bigger than a purse.  Something versatile, durable, stylish.
It needs to be a neutral color that I can wear with everything.  But not black, because I wear a lot of navy.  I like a nice, light brown leather.  But I tend to grocery shop with a pen in hand, uncapped.  I always get ink all over my purse.  So my bag needs to be darker.
And of course it needs to be big.  But not too big.
I had my eye on a Longchamp "Le Pliage" in navy blue.  Ink stains wouldn't show!
But is that yesterday's "It Bag"?  Or the day before yesterday?  Honestly, I wouldn't recognize today's It Bag if you smacked me upside the head with it.  But if I recognize something as trendy, it's probably on its way out.  (Also, for that much $$–even secondhand–I'd like a little more cow and a bit less nylon.)
Maybe a satchel?  My sister has the cutest satchel that is absolutely to die for (it's called a hobo, but I think it looks like a satchel).  But they're hard to find at a reasonable price, even on eBay.  So I'm guessing they're still a Thing.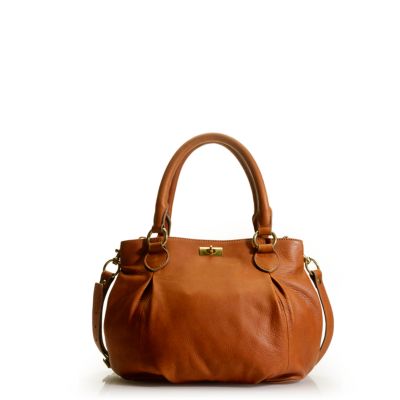 I really need a zipper top.  I'd never be able to put a snap-top bag down for a second with my two-year-old around.
And let's talk about brand names.  I dislike displaying flashy logos.  I guess I'm a bit of a reverse snob.
If I were to get a higher-end, brand-name bag (second-hand, most likely), I probably wouldn't display the little logo tag. . . . Buuuuut, it wouldn't bother me too much if someone were to happen to see a very subtle brand name imprinted in small letters on the side.   You know, if it just happened to happen.  It wouldn't kill me.
I started looking at bags that are super simple.  But where is the line between super simple and super boring?
I've also looked at styles that are classic, timeless.
But where is the line between "timeless" and "old lady"?  I trust myself less and less on this point.
What it comes down to is that I'm looking for a bag that will perfectly represent me.  I need a bag that is me.  
But who am I?
I'm someone who thinks way too much about a purse.  That's who I am.